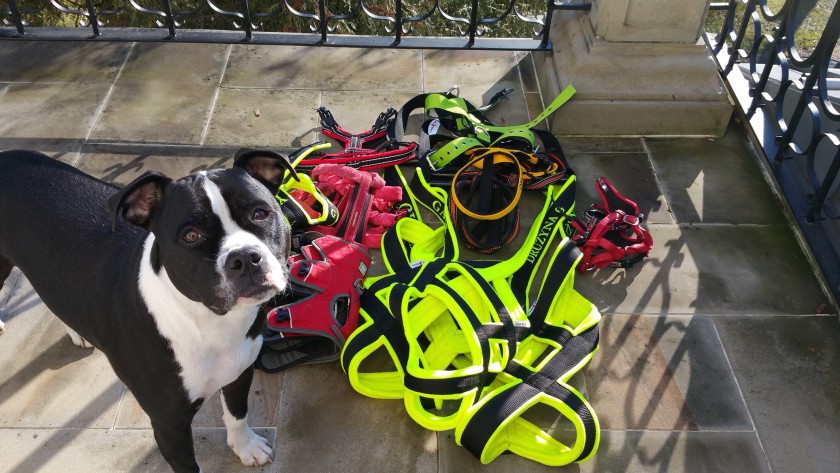 Last month I wrote why I only use harnesses instead of collars.
My collection of harnesses is rapidly growing for a few reasons. First of all I am dog gear addict and I can not resist buying new stuff for my dogs. Secondly all of my dogs are very different and Gunia has a very sensitive skin and most of the harnesses are rubbing her. Gacek hates most of the harnesses and he has discopathy in his neck. Gapcio is a Houdini and he can escape most of the models. Thirdly we practice a lot of sports where you need different type of harnesses; mantrailing, weight pulling, dog trekking.
Below you will find my collection
1. Web Master Ruffwear
This brand does not need to be introduced.
I bought these harnesses almost four years ago and they still look like new. I wanted them for a dog trekking, they have this amazing padded handle which can come in pretty handy during trips. They have a very secure structure preventing even the best Houdini dog from escape. But because of this structure my dogs get pretty warm during hot summer days, especially on the back. Gacek hates them because they are too build up on the top and he does not like to have anything on him. The biggest minus are the straps – they are irritating for dogs with sensitive skin, like Gunia. They are also very narrow and for dogs with wide chest they are not comfortable. They are great for Gapcio, he is a perfect size dog for this harness.

Currently I am using them for matrailing with Gapcio and Gunia but I plan to excha
nge them for Zero Dc harnesses which have wider front parts.
But if you want to have a harness which will last for years and your dog is middle size then you found a perfect match!

2. Trixi Fiusion
I got these by accident. It was emergency situation when Gacek needed new harness due to his spine issues. I did not expect much, Trixi is rather a poor brand and I did not have a good experience with the rest of its products. I was surprised when I got them. They look pretty much exactly like Hurtta's harness. The quality is impressive especially if you consider the very low price.
I have to say they are one of the best accessories I have ever bought for my dogs. They went through quite difficult test when we were at the polish sea side. Two months of swimming, sand bathing, rolling in the dead fishes, running around in the forest and they still looked like new!

The harness is very light and straps are narrow which makes it perfect for Gacek. As I said he hates most of the harnesses and this one he just loved from the first sight. What is more, this model is perfect for his discopathy because straps are placed really low so there is no pressure on his neck.
The harness is padded with neopren and has reflective trips all over.
The only minus I have discovered so far, is the strap that goes at the bottom, between the legs, it is constantly moving to the sides and I have to adjust it on every walk. This model is also inappropriate for larger and more muscular dogs like Gunia.
3. OhMyPet
Because the Y model turned to be perfect for my boys I decided to order customized harnesses from polsih bran OhMyPet. Harnesses are made of our team colors with team's and dog's name on them. I also got a ID on buckles. They are simply splendid! Quality is superb and they are made a perfect for for boys. The issue I had in Trixi harnesses – the strap on the bottom is solved perfectly in these. They are my number one for boys!
4. Dogstyle guards
Neon harness I bought for Gunia few years ago.
 Customized for her but before she was fully grown up so now it is a little bit too small. It is made very nicely with a good quality fabrics. Unfortunately it has regulation on the front parts and a metal part on the chest which makes it uncomfortable.
She looks great in it but I will not order a harness with frontal regulations and metal parts on the chest.
5. Happy Dog
Known to only a few, difficult to get, finish brand made by Raili Halme.

I bought it last summer. I chose this brand because when I was still using collars I had one from them and it was perfect and extra durable.
A big plus was the ability to adjust each of the three parts of the harness and that you can wear it without moving the dog's leg. So it looked like customized. The quality is superb. Unfortunately that is all good I can say about it. It moves constantly on Gunia, falls, wraps. I also do not trust buckles, they do not look too strong. So in overall I do not recommend.
6. El Perro
I was looking for the perfect harness for Gunia so I ordered guard model in El Perro. It is perfect, no front regulation, customized, wide front parts. I am sure it will withstand sudden pulls. It is customized in the same way as the weight pulling harnesses. Because it is not a swimming season I do not know how it will dry. But so far it is my number one for Gunia!



7. EzyDog Chest Plate

I bought these to use in my car, before I have decided to buy a crate. A total washout, rubbing, moving, stiff and every dog can easily back out of them. I had to pad them with milky polar to make it softer and bearable. I do not like them and I do not recommend!
8. MacLeather
First harnesses I have ever had. Very average. Made of artificial leather, they did not lasted very long.
9. Ferplast Ergocomfort
Gacek and Gapa used to walk in these very often but Gacek did not like it so I stopped using them.
 It is very well designed and made with a good quality fabrics. Easy to put on a dog, it dries really fast. It is a lighter version of Ruffwear Front Range. I do recommend!
10. El Perro weight pulling
I wrote a separate article about these harnesses but it is not yet translated.