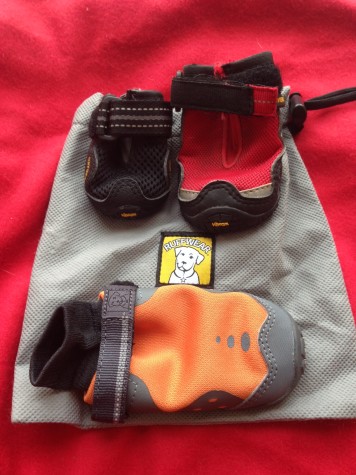 When I was looking for a nice pair of shoes for G TEAM, my first thought was to check one of the best and the most renowned brand in a dog's gear market – RUFFWEAR. Because we already have Ruffwear products – Web Master Harnesses and waterproof collars for all G TEAM members, I was convinced it will be the best possible choice. Our harnesses and collars are just perfect. After few years of extensive use in a very difficult conditions, like rain, snow, mud they have remained intact and look almost brand new. Ruffewar is actually one of my favorite dog's brand, so the choice was quite simple.


Why do we need dog boots? To protect paws from salt and chemicals during the winter or during trips to rough terrain or as a protection to injured paws.
I have decided to order one of the most popular boots available on Ruffwear website – GRIP TREX.
I measured my dogs' paws according to the producer's instructions – you have to place a dog's paws on the empty piece of paper and draw the line next to the widest points of the paw, than you have to measure the distance between these points. With this measurements you can pick out the proper size. It went smoothly and my dogs fitted right into the size charts. For Gunia it was Medium, Gapcio Small and Gacek XSmall. This was the end of nice and easy time with these boots. When the postman arrived I have found out that shoes are too big for all dogs. So I had to exchange them and Gunia got Small, Gapcio XSmall and Gacek XXsmall.. It is the first disadvantage of this product. Gacek does not have the tiniest paws in the world. So unfortunately all Maltese, Yorkshire terriers Chihuahua owners do not think about these boots. You will not find the proper size for your dog. The same with giant dogs, like Great Dane or Dogo Canario there is nothing for you to choose from.


I was impressed by the build quality and the design. Vibram soles for a dog, breathable fabric, Adjustable closure strap customizes fit, low-light visibility with reflective trim, it all sounds great and tempting. When I unpacked the boots from the very nice box with a lovely bag to store you GRIP TREX, I was convinced it was the best choice I could have made.



When the exchanged sizes have arrived it was the time for our first attempt to walk in the new boots. I had a nice laugh out of G TEAM who was walking on eggshells and seemed really clumsy. I know it was only me who had a good time but I could not help myself but laugh.  But when we left home and went for the first walk, it was all back to normal. Until they have started to lose boots, one after another. After an hour walk I had to put again all boots to all dogs three times. I thought maybe I did not tighten them up properly. So for the next walk I made them really tight. They had fallen off and I have found out that my dogs had awful sores on the top of theirs paws. "That is probably because I did not use socks" so I bought socks… Nothing had changed, socks only made it easier for the boots to come off after just few seconds. The results after few walks was poor because I had lost few shoes. If you like to play hide and seek with dog boots I really recommend them. They can hide in snowdrifts so well that it will take you hours to find them. Fun is doubled when you use socks. Boots go in one direction and socks in a completely different one!


I still wanted to have dog boots and decided to give Ruffwear one more chance. I bought two different dog boots models. Maybe my dogs are unique and special and GRIP TREX is simply not for them. G TEAM received SUMMIT TREX and long POLAR TREX boots. Unfortunately the result was the same with both of these models. The boots spun around and were upside down within minutes. Than they had fallen down. The Summit Trex has a bur and after few minutes in snow it is useless and does not work. The Polar Trex on the other hand would be okay, because it has nice clasp but the boots still fall partially down and soles look like clapping fins.
For a second I thought maybe I am unlucky and my dogs are somehow unusual and they do not fall into Ruffwear's standards but than I have read comments on the producer website and many other customers had the same issues as I had.
To sum up, I think all Ruffwear boots are of the highest quality. I have used them with snow, sand, water and they still look brand new. This is the one and only advantege they heve. Despite it they are not practical because the fall down or leave sores on dog"s paw. So personally I DO NOT RECOMMEND them. Maybe you will be a lucky one and you will find the right size and they will stay on your dog's paws. Than you will have a perfect product. But it is a lottery.
Currently I have all these boots in a dog's closet. They are left for emergency situations like paw injuries. In the close future we will test new shoes from HURTTA. But even with the poor choice of dog's boots Ruffwear remains one of my favorite's brands!