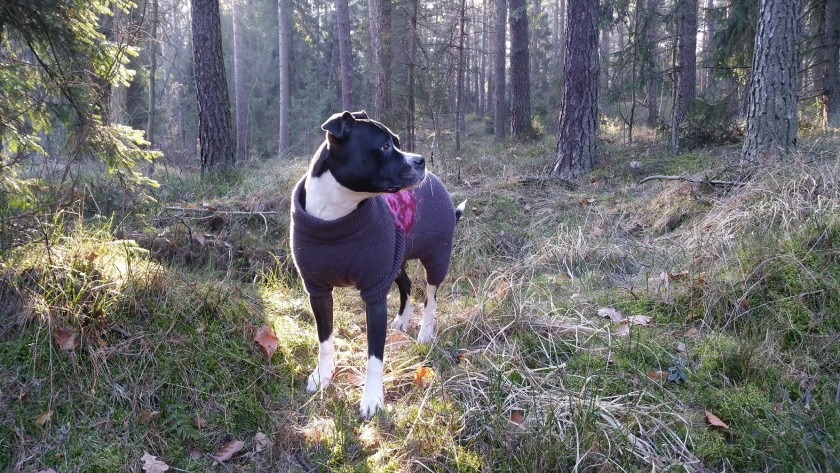 Gunia is a warm lover. When the temperature drops below -3 Celsius I have to bundle her up. She has no fur on her belly, almost no undercoat and she is simply cold sensitive.
Boys maybe have more fur but since Gapcio has had a shoulder contusion and Gacek has discopathy they should not be exposed to very low temperatures. When the temperature drops below -8/-10 Celsius they have to wear coats. What is more, when we are in the middle of the training and they have to wait in the crate, I do not want them to quickly get chill, when their muscles still being warmed up.



Long before we adopted Gunia, I have bought simple dog coats for the boys. They did not meet my expectations. They quickly soak through with water, were not to warm and the design left a lot to be desired. So when our b&w princess arrived I knew she will need something better.
Gunia's belly looks like this:


So you can imagine that winter is not her favorite season of the year. On the one hand she hates going out when it is cold outside. But on the other hand she is an active dog who has to go out for at least two longer walks a day, even when a temperature is freakishly freezing. I want these walks to be pleasant for her. When the temperature decreases rapidly, Gunia is glued to the radiator before every walk:
Three years ago I came across Hurtta dog's warmers. I decided to order one for Gunia – Hurtta Ultimate Warmer, for Gacek & Gapa chose lighter Winter Jacket. The perfect size for Gunia was 50 and for Gacek 40 and for Gapcio 45. After a while I ended up with few more pairs of Comfort Knit and Slush Combat. I am absolutely in love with all of them. Bellow you will find a description of each of them
1. Ultimate Warmer
My number one. Simply perfect. On the producer's website we can read: The material has been laminated with a waterproof and breathable Houndtex® membrane to keep your dog dry and warm even after lengthy training sessions. The high collar, protective front and long rear hem protect your dog's most important muscle groups, neck and chest. Made from smooth and soundless material, the jacket allows complete freedom of movement.
It is all absolutely true. Except from a perfectly waterproof fabric and a cozy inner side it has this middle material, to me it is similar to wet-suit for diving. I think it is the secret of this warmer, which makes it a perfect cold and wind protection.
The only imperfection are the rubber straps you put under rear paws. Almost always they are irritating my dogs and do not stay in place properly. But it is the only drawback I can find in this product.
Waterproof, breathable, dries quickly, can be washed in a washing machine, has an adjustable fit, an opening for attaching leads to a collar or harness, has 3M reflectors and a beautiful design.
If I were to choose only one product among all dog clothing I would go for the Ultimate Warmer.
If it is extremely freezing outside I put Comfort Knit on Gunia under the Ultimate Warmer. With such protection she can run for hours, even when the temperature is -20 Celsius. I would love, if Hurtta made a combo Comfort Knit-Ultimate Warmer joined in one piece! It would be an absolute pawfection!
 
Gunia wearing Ultimate Warmer together with Comfort Knit:


2. Winter Jacket
The basic and most common of Hurrta models. The same as Ultimate Warmer it is made of Houndtex which makes it breathable and waterproof. It is covering less dog's body then a Ultimate Warmer, for this reason we will have to replace it with UW for Gapcio (due to his shoulder injury) It is very convenient to wear, it has a clap blockade so it does not open accidentally. Unfortunately it does not have the opening for attaching leads to a collar or harness, but it can be easily solved by wearing harnesses on the top of the coat. On the neck it has an artificial fur. In contrast to ultimate Warmer it does not have the middle material which makes it much lighter and more suitable for dogs with longer fur.

Gacek wearing Winter Jacket and Gunia Ultimate Warmer:
3. Comfort Knit
Cute sweater with a lovely design <3 It was so adorable I had to buy it. Gunia loves it. It is like a second skin, it stays very close to the body. It does not limit the movement and keeps the most important and critical parts warm. Of course it is not waterproof so if you want to use it on a rainy but chilly day I would recommend to put a slush combat suit on the top of it. With extremely low temperatures it is perfect with Ultimate Warmer on the top (Ultimate Warmer does not cover belly nor the inner leg parts as well as Comfort Knit does).
Despite wallowing in the hail, comfort Knit is not obtrusive. Gunia is actively using it for almost 2 years and it still looks new. It is easy and convenient to put on a dog. It does not have any straps, claps etc. except of the welts on the neck. I use it interchangeably with Winter Jacket for Gapcio and Gacek during a chilly day or when they have to wait in the crate for a while.
4. Slush Combat Suit 
It is perfect for a rainy day; light, soft, breathable and 100% waterproof. When it is muddy outside I put in on my dogs when we go for a walk. I do not have to worry about cleaning my dogs after such walk. And it makes a difference if you have three dogs. Dog are fully protected from getting dirty. This suit allows complete freedom of movement so your dog can happily run in puddles.
The only thing I do not like is the process of putting it on a dog. Especially at the beginning, it really took a while to get used to it. You have to put all dog's paws into a holes while keeping him motionless until you zip the suit on his back.
So there you have it, an overview of variety of dog warmers. After a few years of extensive use in very difficult, even extreme conditions (snow, rain, mud) they remained intact and almost brand new. I am waiting for Hurtta to make a new model, a combo I have mentioned few lines above. I hope, that one day, they will decide to produce it. I will definitely be the first customer to buy one of them!