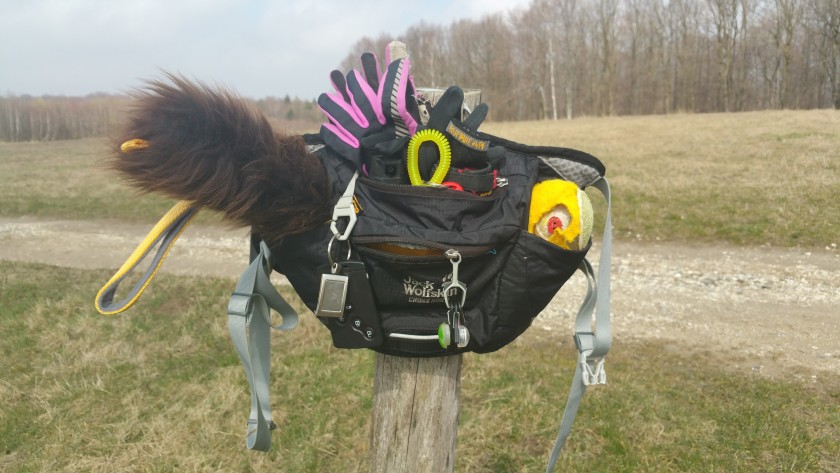 Dog pouch is a sport version of a woman's purse. I always have a mess inside it and tons of unnecessary things. After the last walk in a terrible weather conditions (rain and mud), I was forced to wash my pouch. It was a great occasion to write this post. Recently, there has been a few articles on polish dog bloggers about what they have inside a pouch. So now it is my turn :)  

First of all, what kind of pouch?
I love big pouches (the same as bags). The bigger the better. I want to be able to put literally everything inside it. Of course all is necessary stuff ;) I used to have Hurtta's pouches but they have lasted very short, and I needed something larger with much more pockets inside. A friend has recommended to me Wolfskin Cross Run 2 pouch. It was a perfect choice. I have it for two years now, and it still looks like new. It is waterproof and dogs claws resistant, big and it has four pockets. I have to say, it was one of the best dog's gear I have ever bought.

What I have inside? 
1. Car key – must have for any walk. Without it we would be unable to go anywhere. I buckle it to the key chain inside the pouch, so I do not lose it.
2. Kibble – my dogs are on a raw diet but during our walks I use kibble as a reinforcers.
3. Special occasion treats – dried lungs, liver. I always have something special with me. In case of a difficult situation.

4. Tug toy RAUKI – must have for Gunia, for every walk, it helps her to release bad emotions (I wrote about it here) and it is a great tool for mutual play :)
5. Kong ON/OFF squeaker – squeaker toy for a retrieve play.
6. Back on Track gloves – they have saved my poor hands. They really work and keep my fingers warm for more than 15 minutes. The ceramic powder they are made of reflects your own body warmth and creates a soothing far infrared thermal warmth. I plan to buy another pair but this time I will chose outdoor model so I can use them without the second pair.

7. Nike gloves – I had to buy a second pair to wear them on BOT gloves (it is necessary to keep the infrared inside) . They had this special thing on the fingers so you could used them on smartphone screens. But it was destroyed after first wash. They also are really of a poor quality. I do not recommend.
8. Pepper gas – just in case…
9. Clicker – for a short training session.
10. Poop bags –  no need to explain.
11. Ruffwear boot -in case of emergency situation to secure injured paw.
12. Nite Ize lights – great for evening walks with my dogs. With black dogs, walks after the dusk are quite difficult. With these lights I can clearly see where they are.
13. Smartphone of course :)